Darell Gallegos just became dealer principal of Farm Country Ford Kawasaki in Concordia, KS. Owning a dealership is a goal he has working towards for years.
"I have always, since I was a child, had a passion for the car business," he tells Automotive Buy Sell Report.
Gallegos, 27, acquired the dealership from Steve Womack. He had already been working as the dealership's general manager for more than a year. It was part of the road map to ownership Ford set out for Gallegos.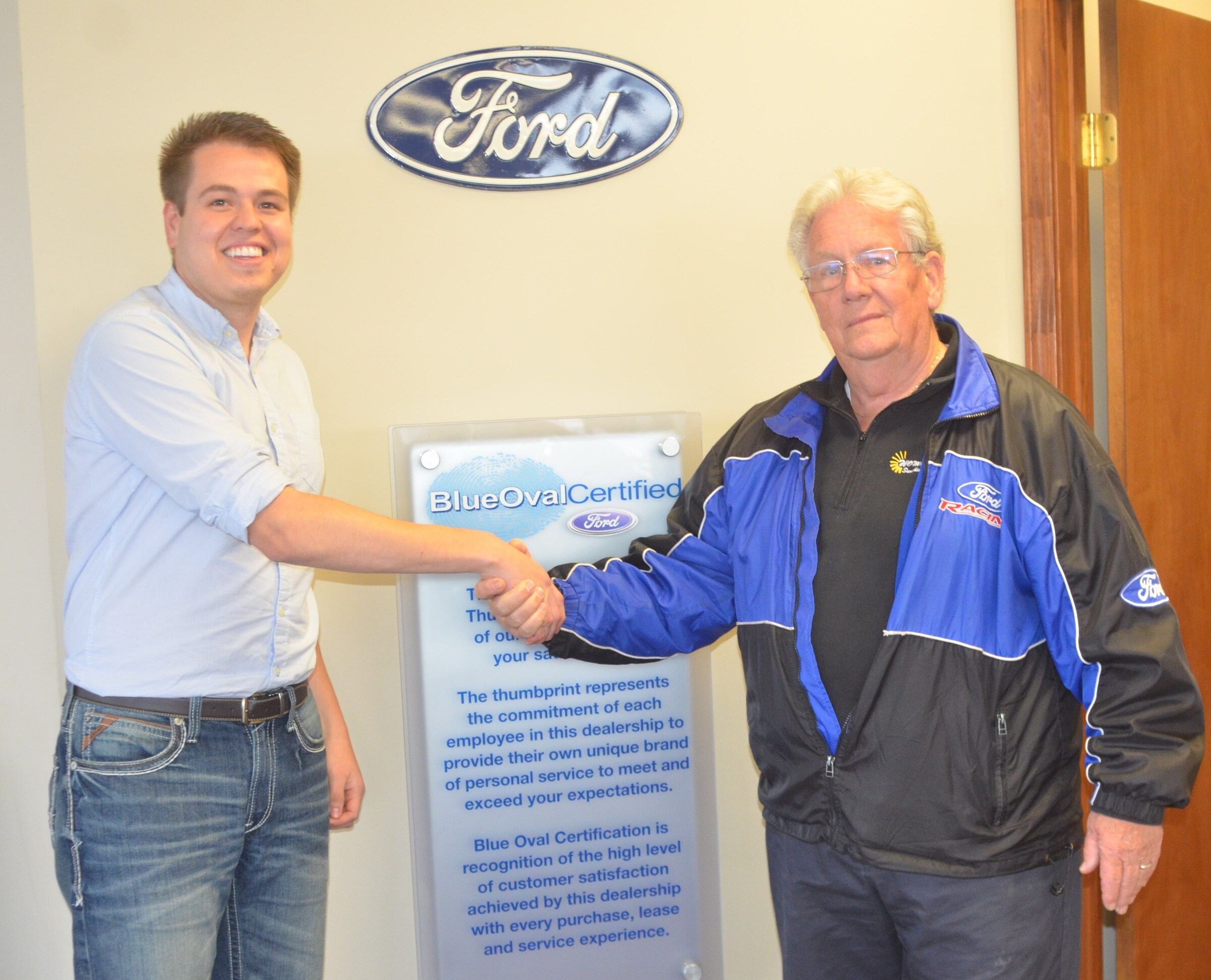 Born in Mexico, Gallegos grew up in Scott City, KS, where he still owns a Mexican restaurant with his mom. He wanted to work at the local Ford dealership while in high school, but it burned down. After graduation, he moved to Hutchinson, KS to attend community college.
"I went straight to the Ford dealership and said I would like to work here," says Gallegos.
Starting out as a porter, Gallegos also worked as a service lane advisor. After graduating with an Associate's degree, he moved to Wichita to attend college. Rusty Eck, owner of the Hutchinson Ford store, also had a dealership in Wichita. Gallegos worked there in both service and in the internet sales department.
While at Wichita State and working at the Ford dealership, Gallegos met a Ford representative who encouraged him to apply for Ford Motor Credit's leadership program. He did so, and got a job offer from FMCC. By July he was in Colorado Springs working.
"It was great career with great benefits, but part of me wanted to go back to the store," says Gallegos.
Through his job at FMCC Gallegos met Steve Womack, then owner of the Concordia Ford franchise. Gallegos knew Womack had no successors to take over his Ford store in Concordia. In November of 2016, when Womack mentioned he wanted to retire, Gallegos tried to acquire the store. He was turned down because he had never run a dealership.
"We kept trying different approaches," says Gallegos. Still, dealership ownership remained elusive.
Finally, in mid-2017, Ford Motor gave Gallegos a road map to ownership. He would need to be the store's general manager, boost the store's sales effectiveness - which was at 30 percent, and raise its CSI scores.
For the rest of 2017 he struggled to decide if he should leave FMCC, says Gallegos. "I had a great career ahead of me at Ford Motor Credit," he says. "It was just that part of me wanted a store."
And not just any store. Gallegos turned down the chance to own a Dodge franchise.
"I wanted a Ford store," he says. "Since the age of 18, every single paycheck I have had was with the blue oval."
In December of 2017, Gallegos quit FMCC. In January of 2018, he became general manager of what was then Womack Sunshine Ford in Concordia.  Ford Motor helped Gallegos succeed with the road map it had set forth for him, including monthly calls with the representative.
He got heavily involved with the local community of 5,500 people, sponsoring downtown events and free movies. He started collecting email addresses from customers and sending out surveys. The dealership's CSI scores rose.
But Gallegos was in a chicken-and-egg trap. He couldn't get his sales effectiveness score up because he couldn't get inventory because his sales effectiveness scores were low.
Finally, the Ford representative stepped in and "got me the inventory I asked for" says Gallegos. Those sold well and he hasn't had trouble getting inventory since.  That also helped change the dealership's image from that of mainly a used car store to a new car dealership, says Gallegos.
He and his sales and finance managers took an entire day off to attend a class on selling F&I from a menu. "We set up a new process on how to sell F&I. That has been really helpful," says Gallegos.
His service manager was getting ready to retire, so Gallegos brought in his current service manager, who was working for a John Deere dealership.
To boost service business, Gallegos signed a deal with the local college, high school, and hospital for discounted oil changes including pickup and delivery. "We just wanted to make it convenient," says Gallegos.
Business skyrocketed, he says, and he coached his service advisor on up-selling. This month, a second certified master tech starts work, as well.
On the sales side, Gallegos kept the same staff. He also sells a lot of vehicles to customers in Scott City, four hours away, and even to California and to his former colleagues at Ford Motor Credit in Colorado.
"I would tell them free delivery," says Gallegos. "We can sign in the comfort of your home."
The dealership is also a Kawasaki franchise, selling motorcycles, all-terrain vehicles, four-wheelers, and mini-trucks or "mules" as they are known. Concordia is in an agricultural area and mules are a big seller, says Gallegos. Plus, "Kawasaki brings customers in and opens the door to new (Ford) customers," he says.
Automotive News lends a helping hand
Gallegos credits a story he read in Automotive News in 2014 with giving him the motivation to try for store ownership at such a young age.  He read of a Hispanic dealer in California, Sil Gonzales, who was helped by Ford's minority owners' program.
"I saved the article," says Gallegos.
Though he met all the goals that Ford set for him regarding CSI and sales effectiveness, Gallegos still had trouble obtaining financing to buy the Ford franchise. He reached out to Gonzales, who helped Gallegos structure the financing deal.
He got the funds through a local Concordia bank, a relationship the Womacks already had.
"The banker didn't hesitate," says Gallegos. "The same bank had previously provided financing for the dealership and it felt great to be able to maintain that relationship."
He changed the name of the store to Farm Country Ford to honor the community's agricultural roots. The store is still selling more used than new, but Gallegos has put a Certified Pre-Owned program in place. He aims to boost the current 45 or 50 units a month sales to up to 80 by the end of 2020.
He hasn't made any big plans yet, but Gallegos isn't finished acquiring franchises.
"I truly hope this is a starter store," he says.